Hey y'all,
We are saddened to see how COVID-19 is affecting our community. It's a stressful time, to say the least. As updated as of March 24, 2020, we have just heard from the City of Austin that we are in a mandatory Shelter in Place order. This means that starting tonight March 24th from 11:59pm through April 13th, all residents are asked to stay at home unless they are performing essential functions. Real Estate is named as an essential business and the safety of our clients and team members is the highest priority.
We will be shifting as discussed, to digital operations including:
– Coming soon listings
– 3D virtual tours
– Facetime Private Tours upon request
– Pre-filmed virtual tours and virtual open houses where we can answer all of your questions
– Free remote closings
Let us know if you have any questions and we will keep you updated as we move forward.
We are grateful that our agents and staff are already well-equipped to work remotely and very accustomed to being responsive to clients while remote, day-in and day-out. That said, the health and safety of our clients, our staff, and the community are our highest concern right now and we are closely following all guidance from Austin public health authorities.
It goes without saying that we are all in this together, and our community will get through this challenging time and bounce back even stronger. Austin is a strong economy and has proven its resiliency in times of recession.
In the middle of constant hand-washing, sanitizing, social-distancing, and just plain worrying about our families, we will be here for our clients who are in the process of buying or selling a home. And we also know there are other clients and many members of our community who have been in various stages of planning to buy or sell this spring and we're here for them too. Given the current environment, we are consulting anyone in these situations and developing a personalized plan to help. While holding a traditional open house is not an appropriate strategy at the moment, there are many steps we can take to successfully sell a home. And although it's a bit more challenging to view properties as a buyer right now, there are many alternatives we can offer to help you find your next home now, or when you're ready.
Here are some strategies that our agents are employing to assist our clients in buying and selling in the current environment – please see our above update as of March 24, 2020, for the latest shifts: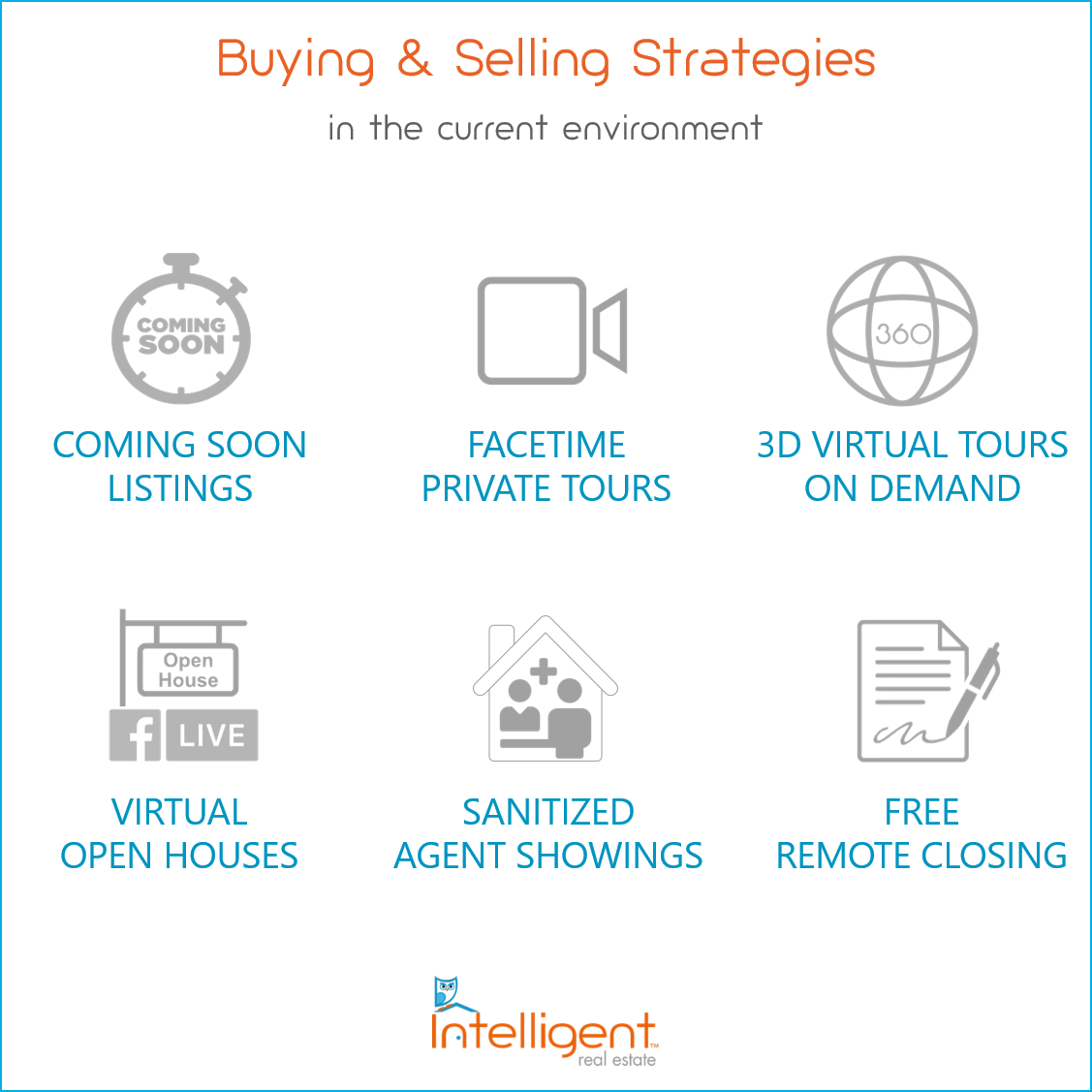 We understand this is an ever-changing time and we will keep you updated on any changes in our strategy to serve you as best we can. Most importantly, we hope you and your family are staying healthy and safe.
Don't hesitate to reach out with any questions — or just to catch up.
Stay safe,
The Intelligent Real Estate Team
Additional resources that you can reference during this time:
http://www.mayoradler.com/wp-content/uploads/2020/03/Order-20200324-007-Stay-Home-Work-Safe.pdf
http://www.austintexas.gov/COVID19
https://apple.news/AG49XG1ihTI2IZFUnbJ-t5g