Now that 2020 is behind us, we're very excited to look ahead at what 2021 has in store for us.
Despite the pandemic, Austin maintains its hold on being "the place" to live and call home. The job market is extremely robust with tech companies like Oracle and Tesla having made big announcements to move to Austin. We are also predicting several other big companies making announcements later this year.
We had a slight lull at beginning of the pandemic but then the market went full force ahead. Austin has seen continuous growth year over year with an increase in total sales and an increase in average sale prices. Houses continue selling fast with the average days on the market decreasing from 54 in 2019 to 43 in 2020.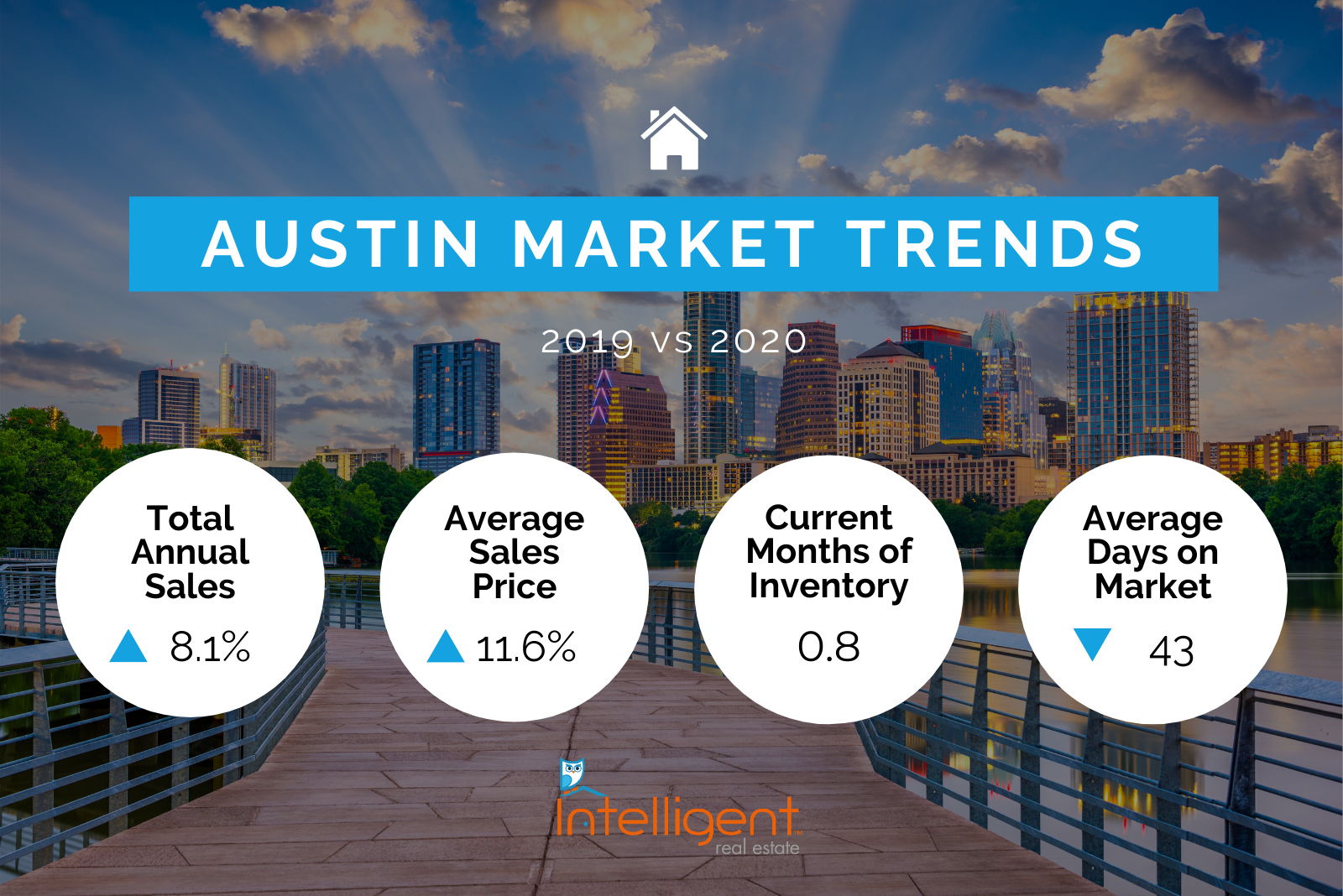 Our prediction:
Austin's market and submarkets will continue to outperform the region and nation. Zillow just announced Austin will be the No. 1 housing market in 2021.
Austin's job market continues to show strength in opportunities. 2020 finished strong on job growth and 2021 should mirror 2020. There are currently 1.6 jobs per dwelling unit including apartments, half-duplex, etc. which means currently we have more jobs than housing available.
Single-Family Housing will remain strong. There is a strong demand as more people are relocating to Austin and current residents finding new "must-haves" likes mudroom and home offices.
It's a great time for sellers right now with inventory so low while demand remains high.  We have an extremely low inventory right now at 0.8 months of inventory and foresee all of 2021 continuing to remain low. Most likely there will be 11,000 shortage of lots to build on for this year.
What you should focus on this year?
It's a great time to be buying or selling in the Austin Real Estate market but preparation is key to success. Sellers are wise to sell in this type of market while inventories are still low and prices have gone up.
With increased competition, buyers should get pre-approved and ready to purchase once a home becomes available.  After more than 17+ years of experience in the market, we've found relationships are key to making the process run as smoothly as possible. We've helped ensure our clients are as prepared as possible by cultivating a community that supports our clients in the real estate process; from fellow realtors, lenders, photographers, stagers, contractors, and other vendors.
At Intelligent Real Estate, we are here to help our clients understand the best time to invest in buying or selling their home. We know that no matter the numbers, this is a personal journey and we are here for you from start to end. Set up a time to chat by contacting us today!