After months of staying home and businesses having to be temporarily shut down, one of the main questions we've been getting is "How's the Austin real estate market? Is now a good time to sell or buy?" We've created this blog to keep you updated on the latest trends weekly within the Austin real estate market. We'll answer your largest questions as the environment around us evolves and changes rapidly. Stay tuned and we're always available to chat!
This is a new era:
We are entering a post quarantine world as our economy and community begin to open up again. While we may not go back to what "normal" was, we are excited about the innovations we are seeing both in how homes are being designed and how we are choosing to show these homes.
We're noticing a shift in what people are looking for in amenities in a home such as:
Video conferencing areas or distraction-free zones that are quiet for parents to be able to step away in.
Dual offices in homes as more companies choose to stay remote
Mudrooms may become more prominent to leave any outside items separate from the home
The way we are doing business and marketing homes has changed. We're incorporating new ways to show these homes including:
3d tours
Facebook live and Virtual open houses
Facetime and other video walking tours
Masks and gloves are always on during showings
The Weekly View: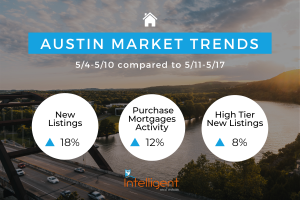 Things to consider:
Even though during the month of April there was an 18% decrease of pendings, we have experienced week over week growth of active listings on the market in May including an 18% increase in new listings this week.
Interest rates are still very low however lenders are going to have stricter requirements. For example, some lenders are verifying job employment again on the day of closing as a part of conditions for final funding.
Prices should continue to increase as inventory is still extremely low.
The million-dollar question: Is it a good time?
Our response is it is definitely a good time to be in Austin right now. We have seen a slow down with shelter in place but as businesses begin to open back up, we should be on track in Austin to finish up with a strong year for our housing market.
We think it would be intelligent for sellers to go ahead and get their homes on the market while our inventories are still low and for buyers to get pre-approved and closed before lending requirements get tighter.
At Intelligent Real Estate, we are here to help our clients understand the best time to invest in buying or selling their home. We know that no matter the numbers, this is a personal journey and we are here for you from start to end. Set up a time to chat by contacting us today!
Updated: 5/22/2020